ABOUT US
Last updated : 10th January 2020. Click
HERE
for details of update.
LE BAL-EN-ROUGE IS AN OPEN SESSION EVENING TO PROVIDE FREE ACCESS TO FRENCH AND BRETON MUSIQUES ET DANSES.
GENERAL PUBLIC WELCOME TO JOIN IN.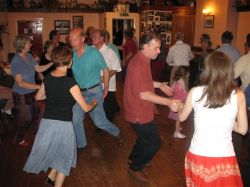 Le Bal-en-Rouge is run as a continuous session (i.e. normally no teaching breaks) since many people have travelled quite a distance to attend.
Just ask anyone to show you the few basic dance steps as the session goes on (they'll probably offer to show them to you anyway).
Audio - Recording is encouraged if you want to learn tunes to join in playing for the dances.
Most instruments welcomed. If you're not sure that your instrument is suitable, just ask and we'll usually at least give it a try.
Sensitive/accomplished drum playing (on djembe/dhabuka?) is welcomed. The smooth/'legato' style of the music is definitely not for beginners.
Photography also welcomed in moderation, especially if some photos are donated for display.
Advertising is encouraged, mostly for French things in the U.K. and France, other U.K. French sessions, festivals, instruments for sale and CDs/gigs by people from the Ockbrook session. There's also Euro/Scandinavian and even some English information!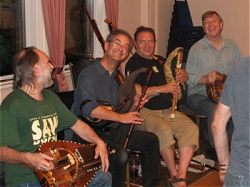 ATTENDANCES
1991
- Started as a session with 8-10 musicians, in the back room of a pub.
A few years later, we had to find a larger room, because there were now more musicians and crucially a few dancers needing a bit of room.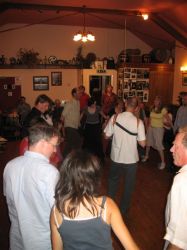 Another few years and more musicians, and even more dancers (plus little co-operation from the venue owners) forced another move. This also entailed moving to a different day of the week.
The move to the Royal Oak at Ockbrook near Derby fuelled an absolute explosion of interest. Being such a good pub with such a great dance floor we still didn't have enough room for the circa 150 people wanting to get in.
Rather than move to yet larger (and less friendly?) premises which we might not be able to fill, it seemed better to stay put and let the level of attendances be self-regulating. After a frantic year or so, we seemed to be stabilised.
1997-Present
- The session regularly attracts about 40 - 60 dancers and up to 10 - 15 musicians.
The musicians on average play 3-4 sets of pipes, 4-5 hurdy-gurdies, 5-6 melodeons/accordions, 2-3 fiddles, 2-3 whistles/recorders, 3-4 banjolin/guitar/mandola and 1 bass clarinet.
Occasional other instruments - trombone, djembe / dhabuka drum, concertina, crumhorn, harp ...virtually anything!
CATCHMENT AREA
People travel from such places as Birmingham, Coventry, Milton Keynes, Chesterfield, Doncaster and return home the same night.
So, if you are within 1 hour 30 minutes of Nottingham/Derby and have the stamina, you too could be at this full-on
FREE
(contributions invited) French music and dance session.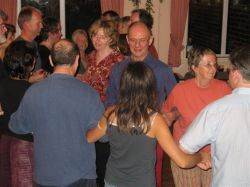 Those from further away might like to stay overnight; see the
Ockbrook village website
for B+B's and other possibilities.